" Lisa thank you so much for doing a great deal for my confidence.  Because of my color analysis session with you, I feel much less old and faded out in my True Winter colors.  You gave me a much needed boost."
Carole Clarke Thompson- HR Director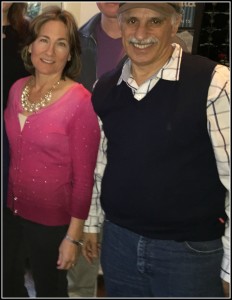 "Mike and I our wearing our colors!  And "bling" for me, of course!  What is most amazing is how my complexion looks even without foundation.  I used to look sallow and sickly because I was wearing unflattering colors.  Now I feel happier in my clothes AND virtually everything in my closet mixes and matches together her.  Fewer clothes and accessories, but more options!  Thanks you again Lisa for sharing your expertise with us!  We look forward to working with you soon, in the near future, as we rebuild our wardrobes.
Marcie and Mike Katz- Certified Professional Organizer and Aerospace Engineer 
"Lisa has helped me discover and define both professional and personal styles appropriate for my consulting business and personality. She is knowledgeable, talented, and highly professional. She tactfully gives her honest opinion. She shares of wealth of well researched information. She is resourceful and responsive. I highly recommend Lisa's services to someone who is seeking out an intelligent, informed, and well equipped stylist. As a career consultant and executive coach, I recommend her services to both men and women who want to represent the best version of themselves to others in their private and professional lives."
Lisa Jacobson- HR and Career Consultant and Owner of Workplace Solutions
"Lisa is incredibly talented and dedicated to making all of her clients look their best. Lisa and I recently worked in my closet for a six-hour outfit building session. We created over 40 'new' outfits using different combinations of clothes I already owned. Lisa is fabulous at saving time and money. Through Lisa's assistance, I found I didn't need to buy a single thing! Working with Lisa, I feel I have the exact right thing to wear for every occasion! Thanks for sharing your knowledge and expertise with me, Lisa!"
Karen Mertes- Retired Lieutenant Colonel A.F. and Founder of Fulfill Your Destiny
"Lisa was truly outstanding and a true professional in her field. She is well prepared, listens to what your unique problems/needs are, and on top of that she is fun and upbeat to be around. She helped me identify my "look", went through my closet to point out holes, and then helped me get those needs addressed. I highly recommend her without reservation."
Susie Nelson-Crowley- Real Estate Agent
"Lisa did a color analysis on me (actually she did it twice so I'd be comfortable with the outcome). She is the most delightful person to work with–witty, smart, even-tempered, patient, and knowledgeable. She knows her craft very well, takes time to answer questions, and will walk you through the process so you can see what she is seeing. She is wonderful and I highly recommend!"
Nicole B.- Paralegal
"Lisa did my "colors." She is thorough, creative, and extremely personable—making the experience comfortable and friendly rather than just a business transaction. At the same time, Lisa is a complete professional who is well-prepared, on time, and dedicated to making her clients look their very best. I met with Lisa in her home office, and the whole procedure took about an hour. I was pleased with the results and now find myself wearing (and receiving compliments for) some colors that I never wore before. Lisa maintains contact so that one may ask further questions and keep up with current fashion tips. I know she is an active participant in service to her community as well as a great mom, so juggling all that with a successful business is impressive!"
Jeri Layfield- Retired School Teacher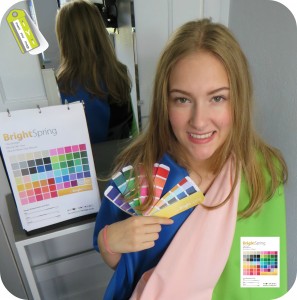 "Lisa is great. She takes her time with you, educates you about color and style as she goes and provides you with a great packet as you leave. You learn a lot about yourself, flattering colors, makeup and style. She's extremely professional and a lot of fun too!"
Carol Kline- Attorney and Owner of Thomas & LoCicero
"Lisa was wonderful in helping me upgrade my look, working with my existing clothes to prepare a full line of outfits both for work and for home. Great tips and excellent experience."
Suzanne C.- Microsoft Executive
"After a disappointing local color profiling experience, I decided to travel from Amsterdam to Baltimore (for my bi-annual couture class with Susan Khalje) via Tampa to have a session with Lisa. It was more than worth the trip. Not only the color profiling, but also the styling tips help me to select the best fabrics for my sewing projects. The colors are much more adventurous than I was used to. And it was fun to do; my jet-lag faded away when working with Lisa."
Nel V.- Retired CFO and Couture Seamstress
"MY experience with Lisa was wonderful!! She has transformed my life! I feel so much better with an organized closet and so many new outfits to choose from. Didn't even have to go shopping!!! Now I feel ready to tackle the rest of the house!!"
Jennell T.- Owner of a Property Management Company
"Lisa is amazing! She figured out the colors that were perfect for me and my skin tone and what season I was. She did my makeup and told me what colors to use, gave me hints and suggestions on making my eyes pop, discussed hair color and style best for me, gave me suggestions on the bra I needed to help with my surgery issues and gave me new self awareness and boosted my self confidence so much! Lisa is a beautiful person inside and out! xo I have recommended her to many! My experience with Lisa as a life changing one and an emotional high!"
Babetta M.- Mom
"Lisa helped me organize my closet. We pulled items to consign and to donate. Then we went shopping for items I needed to complete outfits with my current wardrobe. We did all of the shopping in about 2 hours and stayed on task. The one thing that I needed was help with accessories Lisa really helped in this department and mostly with things I already owned. I really loved this and in the past have had my color analysis done with Lisa it has helped me tremendously. We are meeting again soon to do some shopping and maybe organize new fall outfits."
Kim M.- Domestic Engineer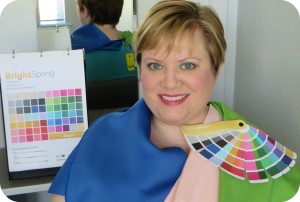 "Very pleased! Lisa did not just put drapes around my shoulders and proclaim the result while educating me on the process. She very clearly showed me both the good and bad effects of each color and she did a thorough job of comparing and contrasting. By the time we were finished, I was completely convinced of my Bright Spring result!"
Tina C.- Hair Stylist
"Lisa is amazing! She has a keen eye and amazing talent for selecting the colors and patterns you will look best in. Being a designer, I know what a huge difference the right color can make in helping a person look their best (that's why I offer over 65 shades!). Additionally, she does a great job of cleaning out your closet and putting together just the perfect outfit for you!"
Tina G.- Owner of Tees by Tina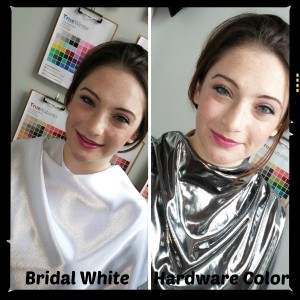 I have worked with Lisa in a few different instances – she is professional – a good listener and knows her 'stuff'! I have also met with many of her clients and they feel that by using her services they are positioning themselves for a faster route to success in their business life and for an easier 'feel good' time in their personal life by being confident in their clothing choices – and I have seen how this is true.
Jerri Menaul- Owner of Menaul Fine Art Studio
"I found Lisa to be a professional, very knowledgeable, and possessing a high degree of expertise in her field of image and color. My first experience was a lesson in makeup. Lisa explained the correct coloring for my foundation, concealer and blush as I have a fair complexion and was applying the incorrect shades. In addition, she advised the length of time when my beauty aids expired and should no longer be applied, that is mascara, eye shades, foundation, etc. Next, was a complete overview of my closet. For my body shape, Lisa explained the type of clothing that would best conceal my faults and those which would enhance my better qualities. This required hours of her scrutinizing each and every item in my closet and in the end I bid farewell to many pieces I thought looked perfect for my figure!  Lastly, I did a color analysis with Lisa. She placed individual pieces of fabric around my neck and it was amazing to see how the various shades changed one's skin tone. For years, I was wearing clothes I purchased because I liked the color without realizing that that particular shade was doing an injustice to my skin coloring. I was analyzed as "True Autumn" and I truly enjoy wearing those colors that fall within this category.  I appreciate what I have learned from Lisa and of being taught by the very best!! I would highly recommend Lisa for any fashion consultation."
Eileen Parks- Retired Administrative Assistant
"Lisa helped me by conducting a color analysis and educating me on how to create a wardrobe that will work for me. This was time and money well spent for me coming out of the military where my professional wardrobe was directed and regulated. Excellent service and would highly recommend to anyone wanting a vibrant assessment of their colors!"
Kathryn Davis- Retired Army and AFLAC Sales Representative
"Lisa is a total professional. She spoke to our group of career women about personal style in the workplace via Web ex. It is often difficult to get participation on these calls, but due to Lisa's energy and high quality presentation, it one of the most interactive calls we have had! All of the women went away with new ideas of how to improve their work image."
Tarra P.- Sales Manager
"Lisa did a fantastic job on me! I carry my colors with me everywhere I go and my makeup look is much improved. I recommend her to anyone looking for an image revamp!"
Lisa Demmi- Owner of Lab3 Marketing
"It is clear that Lisa has a gift when it comes to color.  It is also clear that she takes it above and beyond just natural talent and develops her skills in ways that can assist others.  I feel very fortunate to have found her."
Deborah Selford- Retired Emergency Room Physician
"I'm lucky to be one of Lisa's clients and to serve on the Network of Executive Women's board with Lisa. Her services through Invent Your Image are invaluable. After working with Lisa, I have more confidence in myself and receive more compliments on my professional image. I was surprised that I actually saved money on make-up, accessories and clothing by working with Lisa. She's an absolutely expert at helping you become the best "you" possible. I recently bought a color analysis gift certificate for someone in my family from Lisa. After receiving Lisa's services, my family member told me, crying, that she really felt so much better and had so much fun receiving Lisa's services. She immediately put Lisa's advice into action and has had an extra spring in her step since then.  I love working with Lisa on a non-profit board. She knows how to maximize everyone's potential, both as clients and as colleagues, and develops creative solutions to problems. She is always on time, always early on deliverables, always displays high integrity and takes the high road, no matter what, is a wonderful public speaker, and consistently demonstrates that she is one of the most giving people I know. I hope to work with her more in the future."
Haley Maple- Attorney at Marshall, Dennehey, Coleman, & Goggin
"Lisa has helped me develop a wonderful professional and personal wardrobe with items that can be substituted in several outfits. In the past, I've purchased clothes that I wear one time and for one reason or another end up staying in my closet never to be seen again. Now, everything I buy has multiple purposes. She helped me de-clutter my closet so it's very easy to see what accessories go with which outfit; right down to the shoes. Her color analysis keeps me from wearing colors that make me look washed-out and tired. Whenever I wear "my colors" I get great comments from my colleagues and clients. Overall, even after paying for her services, I've been able to save money by making smarter clothing & accessory purchases."
Jodi Perez- Financial Advisor at Independent Financial Services
"I am watching Oprah's tribute to Legendary Women and I felt compelled to let Lisa know that you are MY personal legend.  Amazing women like you have touched and influenced the woman I am today.  I thanks God for bringing you into my life."
Tammy Gohlstin- Retail Manager
"Five stars for Lisa K. Ford! I have thoroughly enjoyed my relationship with Lisa over the past 6 years. We have worked together on numerous projects and have experienced each other's working styles in a variety of ways. I have referred many friends and clients to her and each have come back with consistent feedback to the theme of: professional, fun, experienced, organized, easy to work with, enlightening."I welcome Lisa into any of my networks of friends and business colleagues as I know I can trust her and her reputation with anyone I introduce her to I am thankful to have her in my sphere of influence."
Karen Gillman- Sales Manager of On Point Executive Center
"Lisa is a phenomenal image consultant. She has really helped me to develop my professional image which has tremendously improved my business and networking endeavors."
"She started by helping me find the right colors for me in addition she helped me find my true style and gave me a makeup makeover that completely changed the way I get ready for my day."
"If you are looking to reinvent your image or just find out how you can improve on your already fabulous self, then Lisa K. Ford is the person to hire."
Nikki Patrick- SEO Specialist
"I was not sure what to expect from my Fashion Feng Shui consultation but it was so interesting! Lisa Ford really knows her stuff not to mention she lives it. She is full of fiery passion (she is a "Fire") and zest for life with a wink, wink thrown in! From start to finish, Lisa made a comprehensive concept easy to grasp. I expected to meet her, get a quick explanation and get on my way, but Lisa and the topic was so hypnotic that I ended up spending three hours with her! She is the perfect go-to person for fashion, color and style advice. I recommend Lisa Ford one hundred percent!"
Jackie Silver- author and founder of Aging Backwards
"I have had the pleasure of working with Lisa for style, my colors and make up for several years and she is so knowledgeable and makes it fun too! Most recently Lisa did a closet analysis and helped put outfits together from clothes I had, documented them and helped organize my closet, which was so great. She also helped find tools to help organize my clothes and accessories. Lisa definitely goes the extra mile to help her clients look and feel their best!"
Terry Ferlita- Genetic Counselor at USF Health
"I purchased Invent Your Image's style solutions package "Select" after reading an article in the 4You section of the Tampa Tribune. Not knowing what I was getting myself into Lisa fully explained what the package entailed and provided informative literature about both Custom Color Analysis and Makeover and Personal Style Consultation the Feng Shui Way to assist me in my decision making process.  My first consultation was Custom Color Analysis and Makeover which was fun, pampering and educational. Lisa did a full skincare analysis, including a facial, completed a full color draping and then taught me how to apply makeup in my NEW unveiled colors-Bright Winter. My personal book of colors I received from my consultation has been invaluable. I have cleaned out my closet using the book and went shopping with it for clothes, cosmetics and even nail polish. It is always in my purse so whenever I need it I have it handy.  My second consultation was Personal Style Consultation the Feng Shui Way. Prior to us meeting Lisa gave me an assignment. I had to make an In-Vision collage that told a story about my Ideal Self, the person you would be if there were no holds barred, and to bring a garment that I loved, loved but did not wear, should love but do not and a garment I hated! Lisa guided me on how to make clothing choices that honor my authentic self and also how to dress in all 5 elements to naturally energize my appearance. I took away a portfolio with texture swatches, body color wands, wardrobe planner and more. I totally enjoyed learning more about my authentic self and blending my tastes and expectations into a more organized individual.  Anyone that needs a recommendation or referral about Lisa Ford you just need to call me."
Pat Metz- Senior Regional Clinical Research Associate at Pharmanet
"Lisa methodically went through my entire closet, all my drawers and my accessories to guide me to make decisions on what I should keep, fix, or get rid of. She even took my clothes away to donate or consign. She created a shopping list of my needs and after we went shopping came back to my closet to help me understand all the different ways I could wear my clothes. She used these cool outfit building worksheets to document all the different combinations I could wear with key items in my closet. The worksheets hang in my closet so every day I pull out the pants I want to wear, I choose the option that will function with what I am doing for the day and viola I have my complete ensemble down to the intimate apparel and accessories that go with it. It makes getting dressed in the morning a breeze.  If you need assistance building outfits or personal shopping Lisa is the go to girl!"
Joanie Halfaker – Certified Financial Planner
"Lisa was telling me all about Invent Your Image one day and I jumped at the opportunity to have her assist me with the daunting task- SHOPPING!! I do not like going to the mall or to shop for myself. I get very overwhelmed and have a hard time making decisions on what to buy. Lisa came to my house to see what I had in my closet and we went from there. It was a great experience using iYi's personal shopping services, Lisa knew exactly what to look for to fit my challenging silhouette, flatter my figure and choose clothes that function for my ever changing lifestyle. She took things from my closet I was not wearing, but loved, and we purchased pieces to make complete outfits. Lisa is extremely organized, professional and has amazing follow up. I always look forward to shopping with Lisa.  I would recommend this experience to anyone. It is the only way to shop, it is WONDERFUL!"
Lorri F. – Business Franchise Owner and Operator of Goddard Schools
"I wanted to treat myself to a little "image" review. It was so much fun, I kind of felt like a princess for an afternoon. My favorite part was the makeup review and when we went to the store to pick some things out. Things I never pay any mind to…Lisa took the time to explain them to me. I feel so much more educated on how and what to put on my face. Also, the shopping extravaganza was great. Lisa suggested styles, took care of picking things out…I just tried things on. It was a great experience all the way around."
T.V. – VP of Training Merrill Lynch
"Lisa saved my professional career. I am a financial planner and I had not been shopping in years. Lisa was professional and efficient; she sat down with me to determine the look I was trying to convey to my clients and defined a wardrobe suited for casual, corporate events. She asked me what my budget was before we went shopping and helped me stay within my budget. I receive compliments each time I wear a new outfit. I truly look forward to my quarterly wardrobe updates."
Lisa S.- CPA and CFA
"I have the pleasure of participating in several organizations with Lisa Ford and observe her as she leads meetings and engages attendees. She is a very genuine and gracious person, and has a special talent for making others feel welcome and important. Her passion and expertise for her profession is always obvious, not only from her great sense of "style" but from her internal beauty which constantly shines through. Lisa is truly a caring and kind person consistently encouraging others to be their best."
Suzanne Neff, Owner, Suzanne Neff and Associates, LLC
"Lisa K. Ford is the go-to-person for any style and color questions/services. She is extremely knowledgeable and an expert in her field. I was very impressed with her quality work and passion. She was super easy to work with and I love her attention to detail! I would highly recommend her to others. She will over-deliver every time!"
Carrie Kukuda, Owner, The Everyday Coach
"I have known Lisa for 7 years now and recognized her skills immediately.  She is dynamic and has an amazing connection with her peers and clients. Most recently, I had the opportunity to use her talents and skills in my own business to reach some of my listeners as an expert in the field of cosmetics.  She is on top of the latest trends in the industry and I would highly recommend her to anyone considering using her services as an Image Consultant and Color Analyst."
Karen C. Hughes, Business Owner, Image Assets, LLC