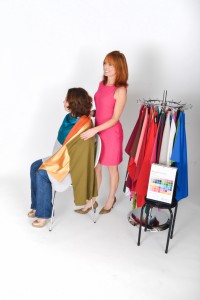 Have an obsession for color?
Always dreamed of becoming a color analyst?
Come join us for a unique color analysis training workshop.
Why Train With Us?
Sessions are taught by Certified Image Consultant, Lisa K. Ford.  So your learning takeaways will go beyond just 12 Tone Color Analysis.
Invent Your Image's drapes are like no other.  The drapes are collaborated by using the exact same formula as our books of color and the drapes are all produced out of the same luxurious fabric.
We only train one analyst at a time so you will experience valuable hands on training.  Bonus we work with your calendar to schedule your 3 Day workshop.
All your color analysis supplies will be purchased directly from Invent Your Image to maintain consistency with everything your color clients sees and touches.
So are you ready to start your career in Color Analysis?  Contact us to set up your pre training phone conversation to access if color analysis training is a right fit for you.  ColorAnalysis@InventYourImage.com or 813-766-8375.
Actual Analyst Training at Invent Your Image's Color Studio located in Tampa, Florida USA